Welcome to Corsa Racewear!
We are committed to producing high quality racewear for our customers around the world – ATV, BMX, Motocross, Mountain biking, etc… We have decades of BMX racing experience —yes, we were very young when we started. BMX, MX, MTB – we've done it all and loved it all. We are passionate about riding, and this is what fuels our commitment to make the best products we can for our riders.
Company Overview: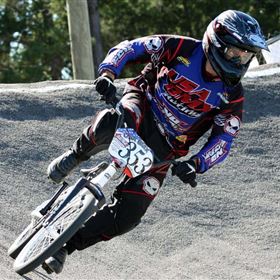 Corsa Racewear was founded by Stephen Gerardi in the Fall of 2010. Our company is headquartered in the Tampa Bay area in sunny Florida. Where as you know there is always a track or trail to shred. Corsa Racewear opened for business in 2011 at the last National Bicycle League (NBL) Grand Nationals held in Louisville, Kentucky.
Stephen began BMX racing back in the early 80's and continues to race today. Having been in the sport for so long, the ideas for his company were years in the making. Our designers have a multitude of creative talent and racing experience. Along with that talent our designers bring passion to the racing products we create. We hope you are excited as we are and enjoy what we have to offer!
Let's get ready to ride…
For latest updates see also Corsa Racewear on Facebook and Instagram!
– Corsa Racewear
Culture/History
Corsa Racewear had the unique opportunity to sponsor a Factory BMX racing team. Our first team consisted of 9 riders as follows:
Natalya Borosch
Chase Chevalier
Nick Cuppy
Robert Fisher
Stephen Gerardi
TylerHarnage
Favio Mojica
Kendra Stoddard
Amanda Carr
Corsa Racewear was able to sponsor two factory professional men riders – Nick Cuppy and Favio Mojica. They were instrumental in promoting our brand and not to mention exciting to watch.
Special thanks goes to Corsa Racewear's first Team manager Jeff Chevalier and to Robert Fisher senior for all their support during the 2011-13 BMX racing season.
Corsa Racewear had an amazing opportunity to promote professional BMX racer Amanda Carr (AC) during the 2011-2013 BMX/SX racing season. During that time we were able to collect some memorable photos of Amanda while she was racing on the USA BMX and Union Cycliste Internationale (UCI) SX circuit. AC was very determined, had one goal in mind, and that was to one day become an Olympian. In 2013 Amanda pursued other avenues to reach her goals, while we wished her the best of luck in her future endeavors.
In June 2016 AC became an Olympian and was the very first BMX racer to ride for and represent Thailand at the 2016 RIO Olympic Games. Gold medalist in the 2014 Asian Games. In the Rio Olympics, she placed 6th in the semi-finals and is ranked #13th in the world. Please enjoy some of our photos of AC when she represented Corsa Racewear.